No limits, no slips.
Only effortless up-dos.
Adjustable hair ties for the ultimate long hair solution.
Shop
The no slip,
adjustable scrunchie
No readjusting, no wasted time… just crushing goals one at a time.
Shop now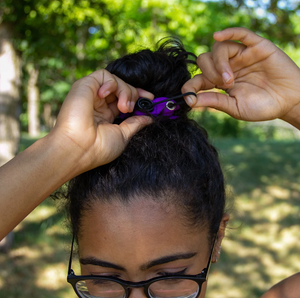 How to tie a Strongband™️
Perfect the Hairstrong technique with our simple step-by-step guide. No slips—no opportunities missed
Best Sellers
The Everyday Strongband™️
Built to keep fine and delicate hair up without the breakage or if you want a casual hold for thick hair. Game changer.
Shop Everyday
The Tough Strongband™️
Built for thick hair and sturdy buns without the dents, creases, or headaches. Absolutely life-changing.
Shop Tough
We're in this together! Hairstrong™️'s founder, Nicole, knows what you need because she's just like you.
What athletes say about Hairstrong...
"I'm incredibly impressed with this hair tie! As an elite athlete, I want to know my hair will stay pulled back and out of my face with little hassle while training. This product exceeded my expectations and held my hair back in place well without it feeling too tight on my head. Being able to adjust it to my preferred tightness is a game changer."

Susanne Grainger - World Champion & Olympian
From a coach's perspective, I love them [Strongbands] too! With all the flipping, flying, and twisting they do, we would spend way too much time fixing hair. That "downtime" has pretty much vanished, increasing productivity at practice..which makes me a happy coach"

Garrett Skinn - Western All Girl & Power Cheer Gym Coach
Whatever your sport, you need a Harstrong Band. I have very thick, long hair and this is the only elastic/scrunchie that will hold my hair in place, no movement at all and no need to fix it halfway through a workout. I purchased the "Extra Tough" band for my hair type/ If you are a CrossFit girl, it even goes as far as passing the Double Under challenge with flying colours. No more missing reps or taking up time fixing your hair ladies! This is a must have in your gym bad.

Nikki Merkley - Super Mom & CrossFitter
It's more than just a scrunchie; it's a movement.
Women are strong, women are bold, and women should feel capable of doing anything without their hair getting in the way. Curly, thick, thin, long—your looks shouldn't hold you back in fitness.